Ajisai-Japanese Hydrangea
Japan has its rich culture and heritage from the ancient itself.in Japan, they predict that they entered the rainy season by looking at a blooming of a certain flower called hydrangea (ajisai in japan).
If we talk about the history of this flower and the relation between hydrangea to japan. Hydrangea is a plant from kingdom Plantae. There are around 75 species. There will be many colours available in these flowers like green, white, pink to blue and all shades from lavender to violet to purple. Of all the colour blue hydrangea is the most popular. Their colour varies with the variation in pH range in the soil. Generally, they grow in fertile soils, moisture as an important factor and partial sunlight is enough for them. They grow up to 30 metres by climbing trees. This flower is adored same as ume, sakura and irises. Generally blooming of hydrangea take place from early June to mid-July.
There are many places in Japan where huge varieties of ajisai will be available. Mostly we can see on the river banks, gardens, shrine grounds, parks and near the temples.in addition to this, there are also some places which include Hakone, mito, Kamakura and mito in Tokyo.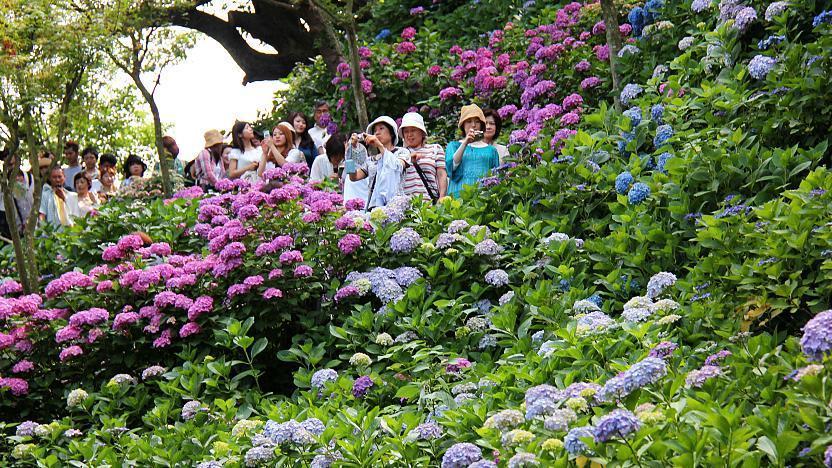 Here I attach some specific hydrangea gardens where many people visit during the season. The most popular is Toshimaen park in Nerima Which possess about 10,000 plants with 150 varieties in toshimaen amusement park. We can walk through the garden else go on a toy train. Couples visit these places through cars and bikes to see the fireflies in the evening at insect pavilion. Flee markets will be also arranged sometimes in order to attract people.
Takahata in Hino-shi city where 7500 hydrangeas of 200 varieties will be available in the mountain elevations. This location also includes Takahata fudo kinshu temple which consists of cultural assets.
Another is Hakusan shrine which contains over 3000 ajisai plants .this shrine was built in the 8th century in order to replicate remedy for smallpox. And became the cultural property by the metropolitan government of Tokyo. We can feel the full blossom of flowers while walking along the way. Special festivals will be organized during the flowering period. Some are having free entry while some having entry fees.
One of the must-watch place during this season is Meigutsein temple located in Kamakura. One can experience the beauty of hydrangea plants at this temple. Blue ajisai can be seen in abundance here.
Though they belong to the same kind, some exhibit fragrance while some are nothing to smell.ajisai blossoms are of two types one is round and the other is flat-headed type. a bunch of flowers will give you a give us a pleasant feel. the plants grow good and healthy only when sufficient rain takes place.nanahenge is the nickname of hydrangea which several transitions in japan.
Ajisai were also used as home decorative, paintings and many.a famous Japanese painter,ito jakucku used blossoms of flowers in his paintings.
On the other hand, hydrangea exhibits moderate toxicity if eaten. All parts of this plant contain cyanogenic glycosides. This causes nausea, dizziness, vomiting .so take care while visiting and enjoy the scenic beauty.