The Legendary Suzuki Hayabusa
Suzuki engineered the Hayabusa to use comfortably and easily yet it is made boxer-muscular heavyweight design.
The Legendary Falcon
Suzuki Hayabusa or GSX1300R is a sporting motorcycle manufactured by Suzuki from 1999 and it is inspired by peregrine falcon which is a Japanese bird naturally designed aerodynamic body that cuts through the wind with ease. The Japanese name of the bird is Hayabusa. The Hayabusa introduced in a unique classification called the Ultimate Sport category. It holds a record of the World's fastest production motorcycle with the top speed of 188 to 194 mph (302 to 312 kph).
An Ultimate Sport Bike
Suzuki engineered the Hayabusa to use comfortably and easily yet it is made boxer-muscular heavyweight design. Most Hayabusa Riders rarely close the meter by their speed but even with the overabundant power and fully loaded performance everyday riding can comfortably drive. The design will make everyone heads to turn over the bike when it passes. The Hayabusa holds both craftsmanship and a highly detailed finish. Thus makes every rider will be proud of ownership.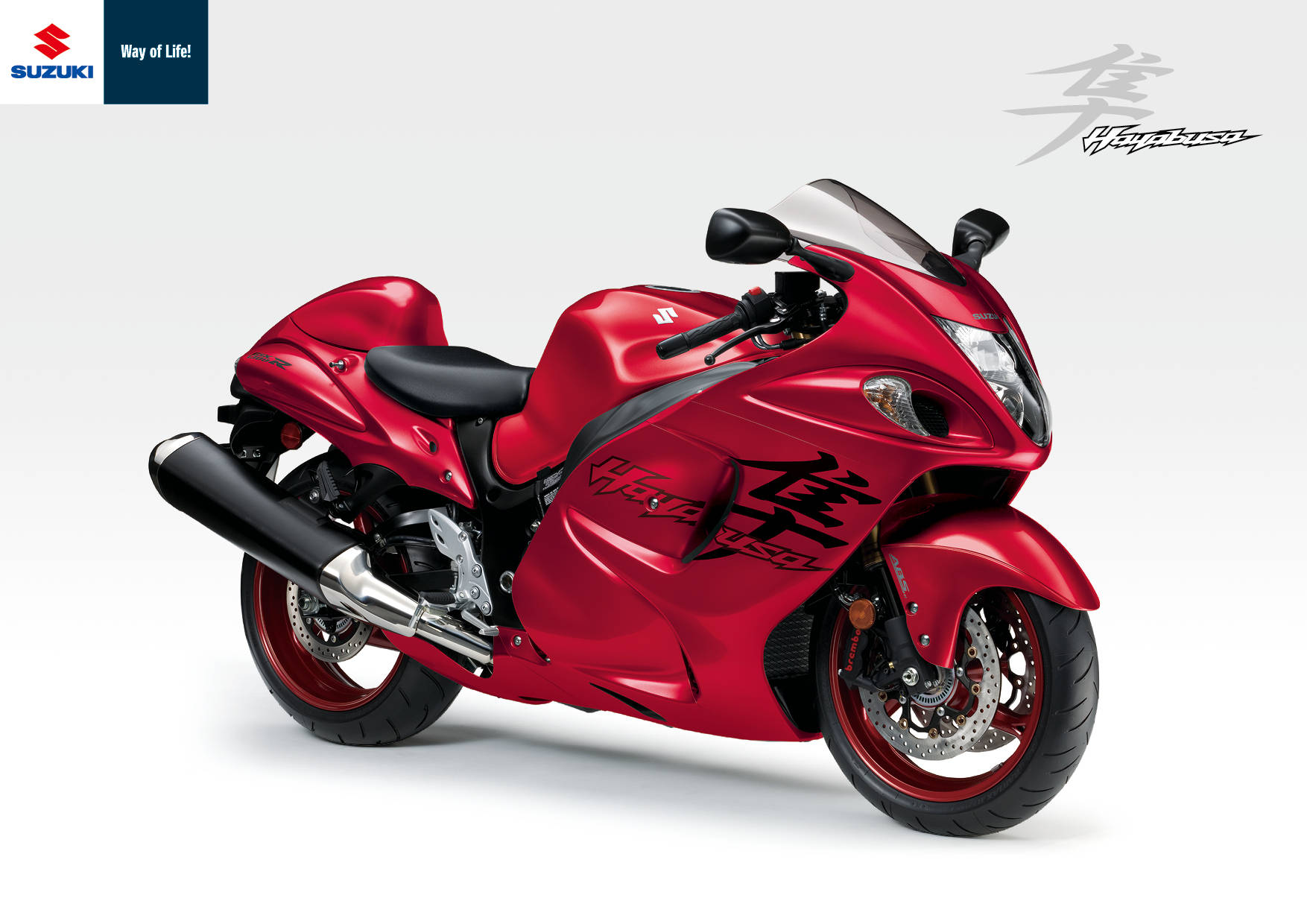 Wind-cheating aerodynamics
The Hayabusa more ergonomically designed that perfectly blends rider and motorcycle. Bodyworks are sculpted carefully to tear the wind to maximize the power of the engine. High-speed riding is attained by testing extensive wind tunnel testing that too with a rider onboard helped to find the ultimate shape for high-speed riding. The styling and smooth aerodynamic design not only gives the bike a unique style but also improves the efficiency of the fuel by protecting the rider from wind.
Massive inline-four cylinder engine
It is the powerful engine that Suzuki ever built with a cubic capacity of 1340 sq.cm fuel-injected liquid-cooled in-line four-cylinder DOHC engine. This legendary engine produces a ton of torque accelerate with ease. The advancements in its design are twin fuel injectors work with the help of 32-bit ECU, effective liquid-cooling, Suzuki Dual Throttle Valve (SDTV) to deliver ram-air downdraft, and (DOHC) Double Over Head Cams are used to control four valves per cylinder.
PVD-coated rings and forged pistons
Improved cylinder sealing by Physical Vapour Deposition (PVD) of chrome-nitride coating gives less friction on cylinder walls improved strength provided by three forged aluminum-alloy rings and forged pistons.
(SDTV) Suzuki Dual Throttle Valve
To give more natural feeling of throttling Suzuki uses (SDTV) Suzuki Dual Throttle Valve induction with 44mm double-barrel to improve efficiency of combustion.
Engine mapping
To change the mode of driving Hayabusa is equipped with (S-DMS) Suzuki Drive Mode Selector can be changed according to the riding condition, such as sports mode, streets, and highway cruising.
Front brake calipers with Brembo Monoblock
Front brakes are equipped with dual-floating-discs sized about (12.2 inch) 310mm Brembo monoblock brake calipers. The specialty of these calipers are more solid yet lighter provides incredible brake response. For the greater control and to achieve increased bite the calipers are provided with larger pistons and to reduce weight further hollow mounting bolts are used.
High-performance ABS
The Antilock Brake System (ABS) has a compact and lightweight design. The ABS prevents the wheel from locking and enhances braking performance torque is reduced by ECU to match the required stopping power with minimum braking distance.
Inverted cartridge front forks
Hayabusa is powered with (DLC) Diamond-Like Carbon coating surface treated with famous KYB inverted cartridge forks along with 43mm stanchion tubes that recognize and react even to the small irregularities on-road and provides the front wheel travel of 120mm. Fully adjustable rebound damping, compression damping, and spring preload of the forks.
Rear brake and Bridgestone tires
Bridgestone BT-015 is used in Hayabusa, developed especially for the Hayabusa. The rear brake disc is 5.5mm in thick and 260mm in diameter with TOKICO rear brake caliper with pin slide single-piston with ABS.
Instrument cluster
Instrument cluster has Round LCD panel which includes (S-DMS) map indicator, odometer, clock, gear position indicator, and dual trip meters and gauges include speedometer Tachometer (RPM indicator) programmed to rev between 4,000 and 11,500 rpm as an idling rpm of the engine. All analog gauges and LCD panels are equipped with silver metallic color to get an image of American GT muscle-car.
Headlight that is stacked vertically
Front turn signal indicator lights are integrated at the outer edges of intake air scoop. And vertically stacked headlight Headlight is vertically stacked with a halogen-bulb multi-reflector low beam and projector light for high beam.
LED tail lamp
Tail section with sleek design integrated with rear turn indicator lights equipped with durable and bright LED inspired by the shaped of jet-engine motif with red outer lens and clear inner lens.
Suzuki Hayabusa
A machine overloaded with power shaped and designed to cheat the wind with flawless aerodynamics and key features of all-terrain balanced performance also comfortably suitable for even long-distance riding. Proving that,
"bikes are not just a machine but an emotion".