Lexus LF-1 Limitless - A Flagship Crossover
The Lexus introduces a concept LF-1 Limitless, a brand new category of luxury vehicle the flagship crossover. Packed with incomparable luxury and high performance, this Limitless car could be an innovation of technology showcase, and also the futuristic design evolution at Lexus.
Designed and analysed by CALTY in California, the inspiration of design is taken from molten katana that blends the shapes of molten liquid metal with the fine edges of a standard Japanese sword. Having thought of that shift from a sleek, a solid from flowing mass, handcrafted from the fluid, nevertheless aggressive style and design of the LF-1 is Limitless.
Cockpit that is focused on Driver
The cockpit is meant to permit the driver to focus on the drive-by replacing distracting analogue buttons and knobs with controls that are motion activated and a minimalist information display directly ahead of the driver's view. The front co-driver area is way more opened additionally, with only minimum controls and a large unimpeded dashboard.
Adaptive Lighting
Lighting plays a vital role in the interior's feel and look. Integrating the push start button operates a sequencing of lighting and lighting the ambience depends on the mood and driving modes. For an additional refined impact, the door trim made of wood has little perforations that permit indirect light from tiny LEDs to dazzle a various type of colours that deliver the additional overhead lights directly.
4D (Four-Dimensional) Navigation
A 4D navigation system that builds on conventional systems by adding the time element to the equation. It serves as a caretaker for the occupants by understanding the needs of the passengers and driver supported with the help progress, suggesting fuel stops, road conditions and traffic with programmed trip, rest breaks and restaurants, even booking a hotel.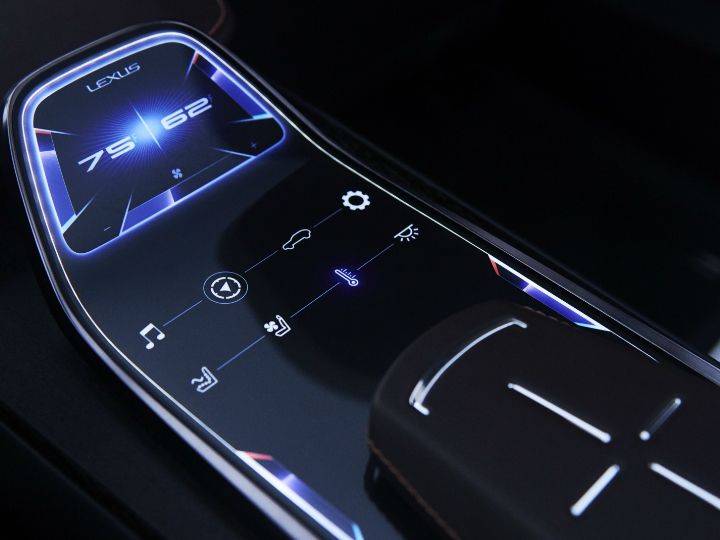 Hands-Free Driving with Chauffeur Mode
Lexus's Chauffeur mode permits for operation with hands-free with the help of adaptive braking, acceleration, by-wire steering, lights and signals. In order to drive engagement and the driver to focus on the road, the steering wheel displays all powertrain controls and mode displays. Thus achieving smooth, stress-free driving effectively and reduced accident risks.
Powerful Powertrains
This car can be powered by gasoline, hybrid, plug-in hybrid, fuel-cell, and also all-electric. This Versatile car is planned to be available all around the world by 2025 with all of its variants.