Kawasaki Ninja H2R - The Ultimate Hypersport Motorcycle
Ninja series in Kawasaki motorcycles is always proud of all riders around the world. Now H2 series is an increased level of addiction towards the Ninja series.
The top feature of Ninja H2R are:
Bodywork that designed aerodynamically
Almost all riders in the world are attracted by its outstanding bodywork. The design is insanely beautiful and tears the air tremendously to achieve more speed along with lowering the consumption of fuel. Designs are worth saying it is Supersport motorcycle. It is one of the most aggressive among all supersport motorcycles.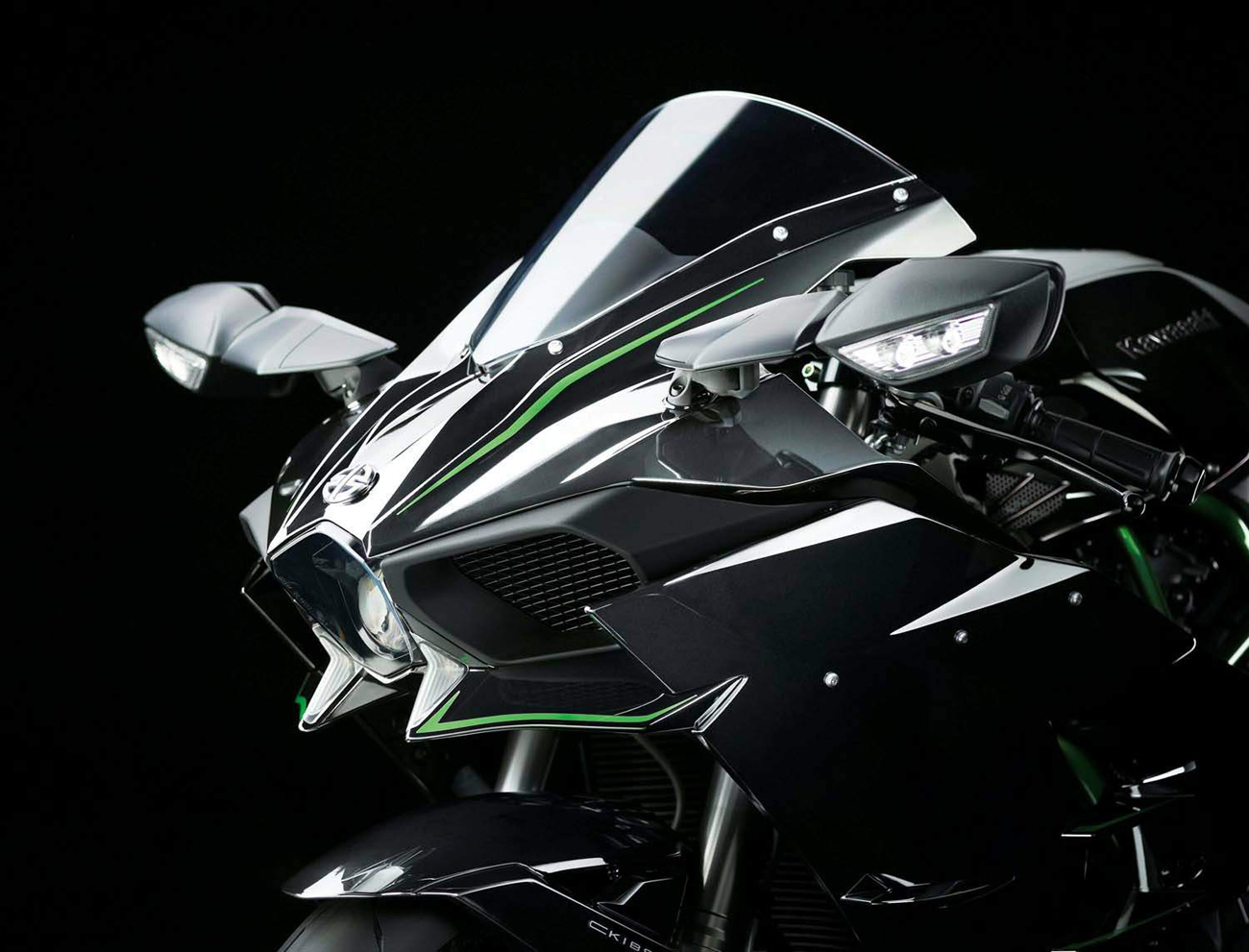 Ergonomics and Riding Position
As the H2R is completely focused on High speed and performance and intensive acceleration. The H2R is provided with a solo seat enjoys every moment of riding.
Maximizing Airflow Efficiency
To maximize the airflow, air scoops play a vital role and let the engine breathe more.
Brembo Brakes
Brembo semi-floating discs with 330 mm diameter and thickness 5.5 mm to provide greater braking force. Brembo's Stylema monobloc calipers are used in the 2019 model which are the latest street-legal high spec calipers.
Single-sided Swingarm
Kawasaki's features their very first single-sided swingarm in Ninja H2R.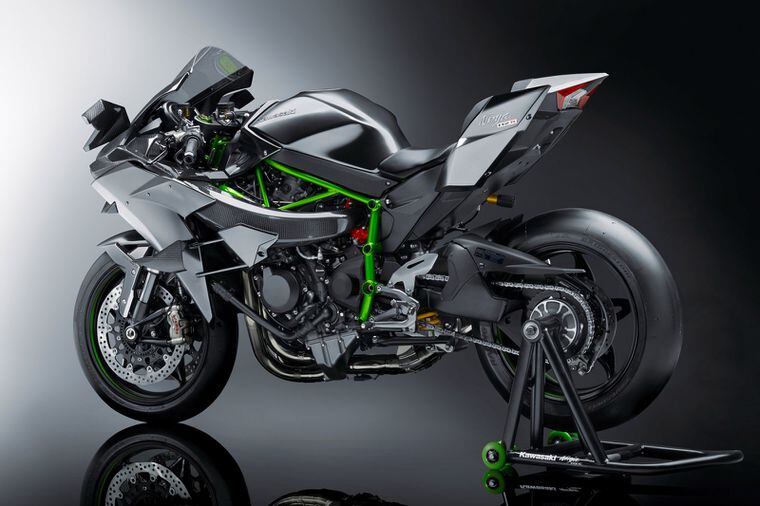 Lightweight Trellis Frame
Higher the speed is lowering the weight of the bike is a key priority. For that trellis frame chassis is used to construct the H2R to offer lightweight and elegant bikes to meet performance requirements for the closed-course model.
Legendary Kawasaki River Mark
River Mark on the Ninja H2R is used under special permission to give historical significance to the reserved products.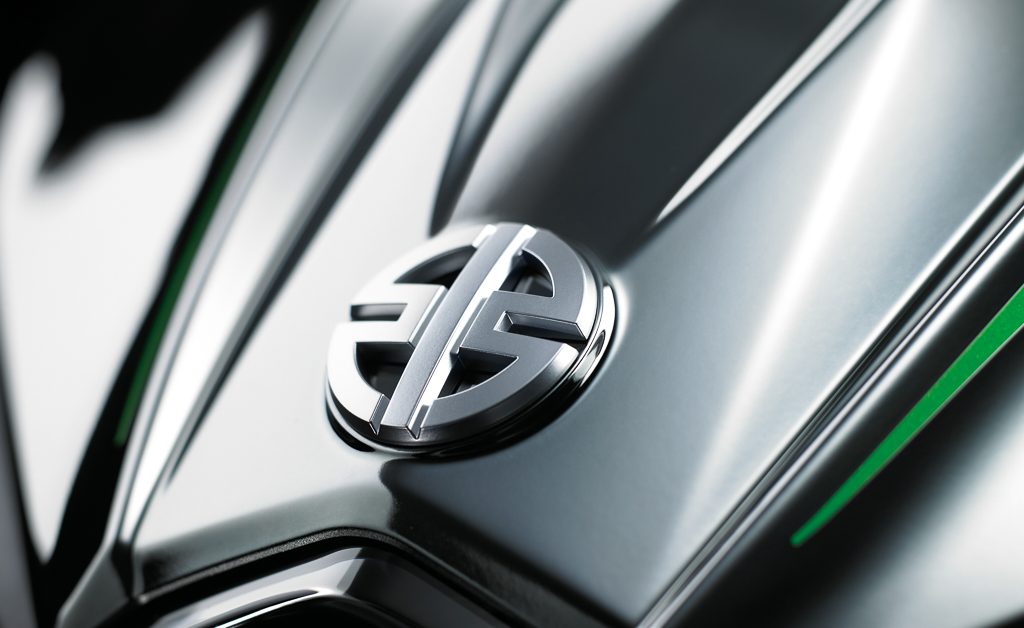 TFT Colour Instrumental cluster
Ninja H2R is equipped with Kawasaki's flagship-level quality instrument cluster that is equipped with advanced tech along with a tachometer with digitalized analog style and full color high-grade TFT LCD screen to enable graphical information display. To allow rider to prioritize information four selectable display modes are provided depending on the type of riding styles.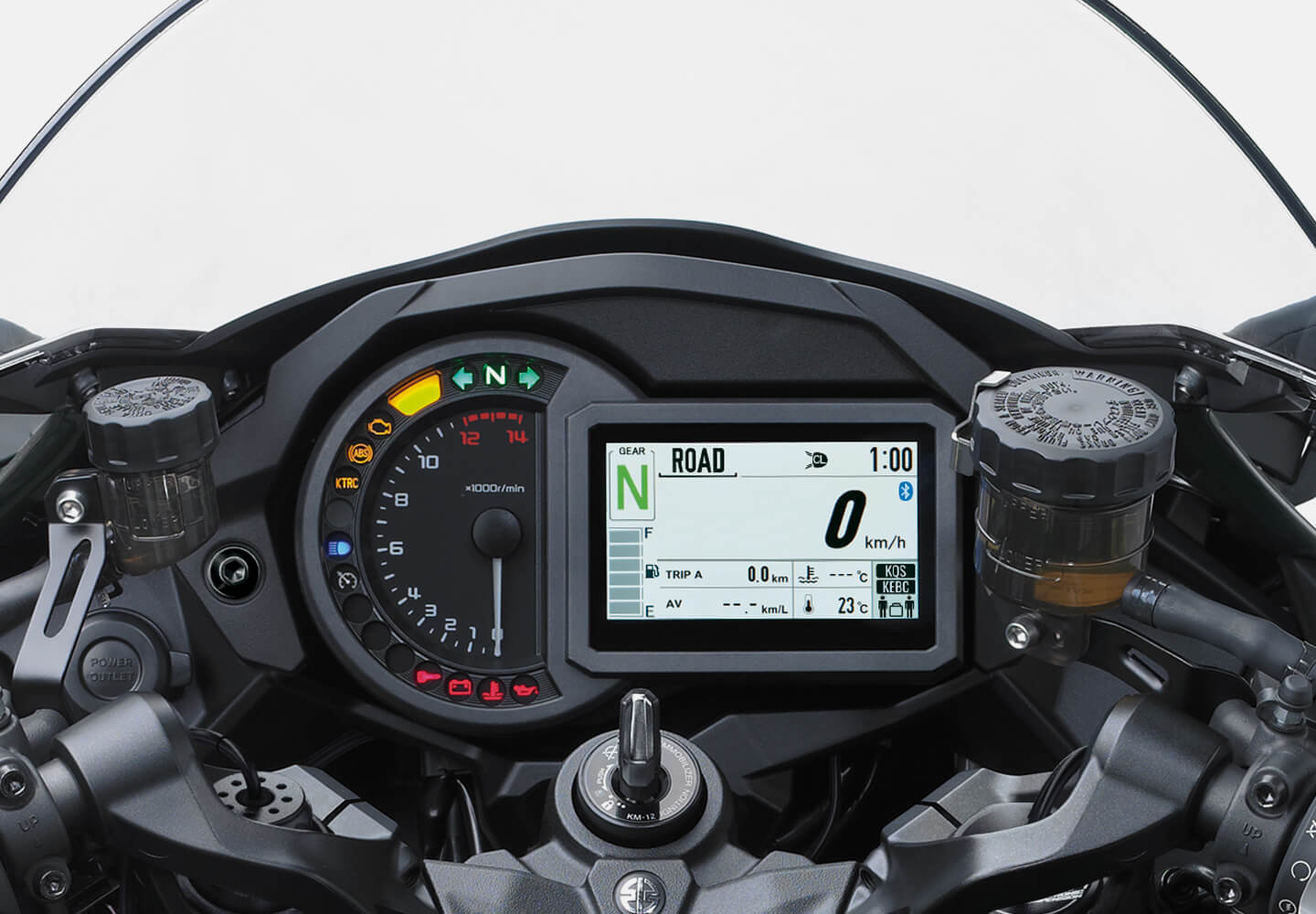 Connect via smartphone
An application is used to get connected with the bike wirelessly through Bluetooth. Using the application many instrumental functions can be accessed to experience the advanced motorcycling. Functions include information such as schedule of maintenance, odometer, idling rpm adjustment, fuel gauge, and also notification from smartphone-like mail or text, and even calls can be notified by instrument display and adjusting dates and units of speed and distance can also be done via the smartphone app.
Display Indicator
LCD screen with a black background and white characters or reverse display delivering high quality visual. Along with gear position indicator and digital speedometer, the display includes functions such as coolant temperature, dual trip meters, odometer, Economical Riding Indicator, boost indicator, boost intake air temperature, fuel consumption, current and average mileage, clock and stopwatch - lap timer.
Displaying of bank angle
With IMU (Inertial Measurement Unit) to the bike helps to display the awesome new features include displaying of bank angle and also recording function of max bank angle.
(Kawasaki Cornering Management Function) KCMF
KCMF helps to monitor the chassis and engine function carefully like cornering from Entry-Apex-Exit and modifying the engine power and braking force to deliver smooth cornering from acceleration to braking and vice versa, and also to assists rider to trace their intended line through the corner. KCMF also controls systems include Kawasaki Engine Brake Control, KIBS (including pitching and corner braking control), KLCM (Kawasaki Launch Control Mode), and KTRC (including traction, wheelie and sliding control).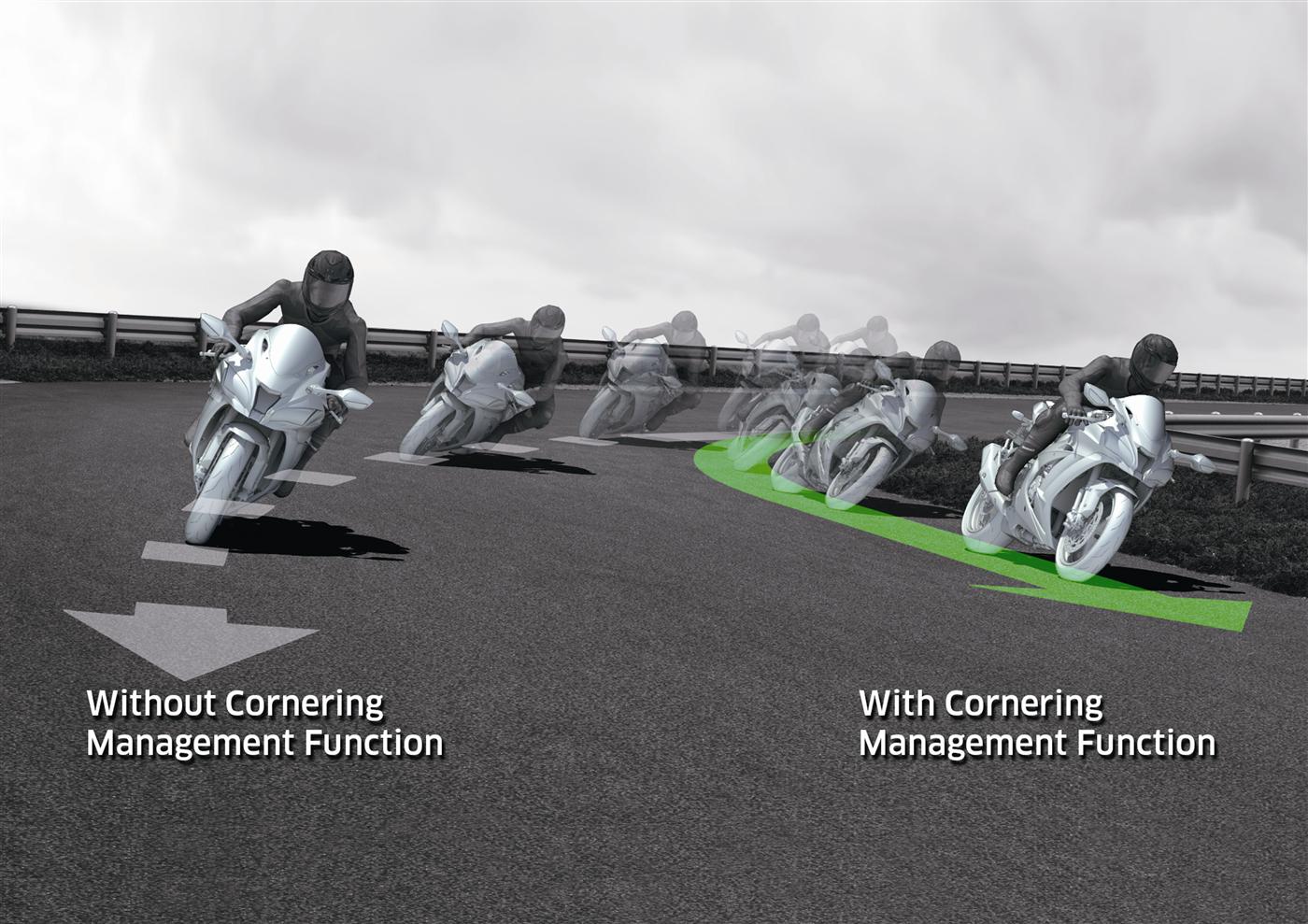 Unique lighting
A bright LED is well suited and blends perfectly with the aggressive design of Ninja H2R and the light is designed under completely for the street-legal operation.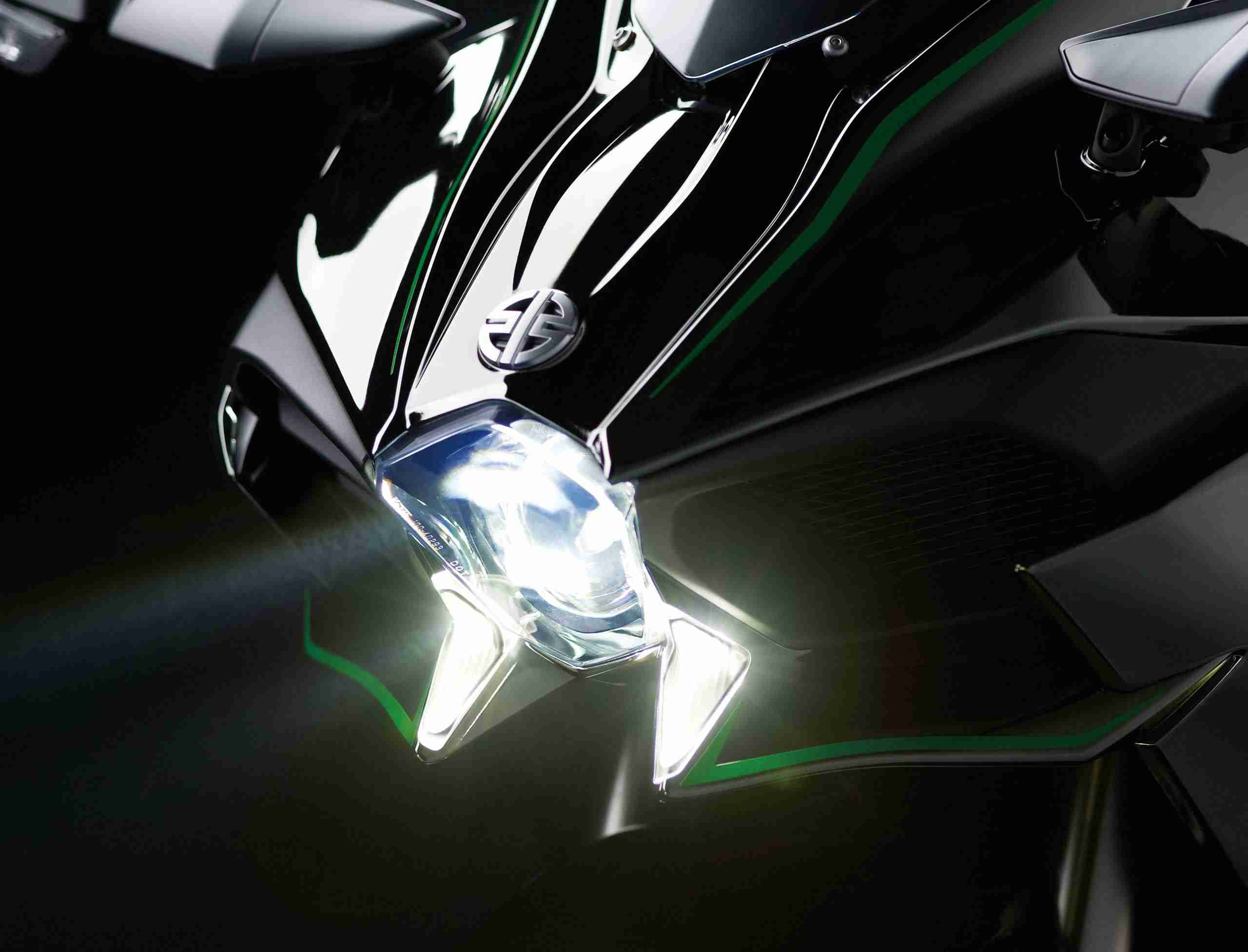 Rear Suspension Öhlins TTX36
Öhlins' TTX36 suspension gives greater benefits such as enhanced cornering performance, awesome response from the road, stability at greater speeds, superb damping, sporty handling, easy lane changing, improved rear stability, effortless ride, gives more confidence on tracks, more comfy drive on streets.
Suspensions
KYB AOS-II front racing suspension is introduced H2R on-road bikes. On-road legal bikes KYB rear suspensions are fully adjustable mono-shock to offer greater stability.
Öhlins powered Electronic Steering Damper
To provide enhanced stability and to increase steering damping at high speeds these electronic steering dampers are completely utilized. And at low speeds, the selectable settings can be chosen not to interfere with the lightweight handling.
Slipper Clutch with Hydraulic Assist
Less maintenance hydraulic clutch with high-quality ensures smooth actuation and superb linearity along with Brembo components.
Inline 4 cylinder Power plant withstands 300 PS Output of the Closed-course Ninja H2R
Technically loaded supercharged in-line four-cylinder engine can deliver 300PS output with ease.
In house designed Supercharger
Kawasaki and KHI group together made the supercharger for Ninja H2R to give additional air to the engine to breathe more.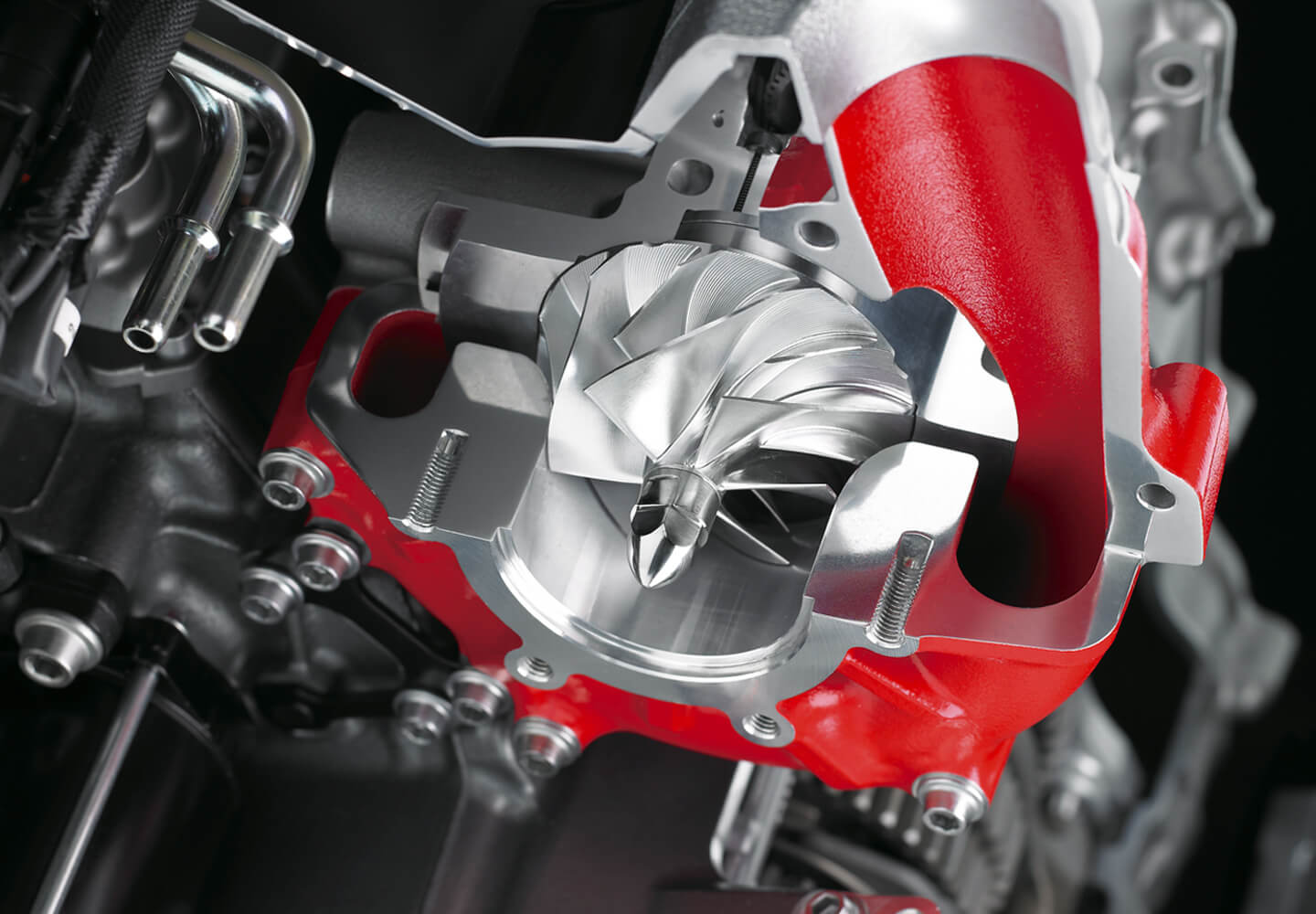 Oil Jets keeps the Engine Cool
A single yet powerful lubrication system provides the cooling oil for all the heating components such as engine components, transmission, and also for the supercharger. This single lubrication system is aimed to deliver a compact and power-packed engine.
Dog-ring Transmission
After getting advice from Kawasaki Racing Team. The Ninja H2R uses dog-ring type transmission to deliver quick and smooth shifting of every gears which are commonly in Formula 1 or MotoGP.
(Kawasaki Quick Shifter) KQS
Kawasaki introduces the first quick-shifter in Ninja H2 motorcycle in the year 2017 which enables clutchless downshifts.
Highly Durable Self-Repairing Paint
Kawasaki's new paint specializes in a unique coat that allows scratches to heal itself, remaining the paint to be in its high-quality finish, it needs about one week to get recovered from scratches, and paint will not recover if scratches caused by zip fasteners or a key or coin.
Cast aluminum designed Wheels
Ninja H2R is specially designed with cast-aluminum wheels.