Dielectric Soil Moisture Sensor
A new system could not be developed for each plant growing process thus the development of an automated irrigation control method that usually minimizes water level use and minimizes leaching and analysing soil moisture for the betterment of irrigation
Japan is the greatest example of inventing unconventional agriculture techniques and maximum utilization of surroundings. Nutrient leaching and shortage in water irrigation and its high quality are major issues in plant production systems. High quality of irrigation water is limited in arid areas so grows should use water available effectively because greenhouse plant production can be characterized by high productivity in combination with the use of the large quantity of water and nutrients. To decrease the consumption and reduce the emission of nutrients to protect the environment.

The greenhouse system took a closed version of a plantation where most of the water used was recycled. A new system could not be developed for each plant growing process thus the development of an automated irrigation control method that usually minimizes water level use and minimizes leaching. This includes placing a dry layer between the wet root zone and the water level. The way of keeping root zone wet is achieved in this way. Thus draining of plant roots into the water level is paused. Minimized leaching results in flushing thus the salts accumulated should be flushed.
IRRIGATION CONTROL SYSTEM
The use of water efficiently and leaching should be minimized. It should be automated and be real-time. The salts accumulated should be flushed at the right time with the facility provided. The water and nutrient level of leaching should be indicated and the soil moisture must be maintained.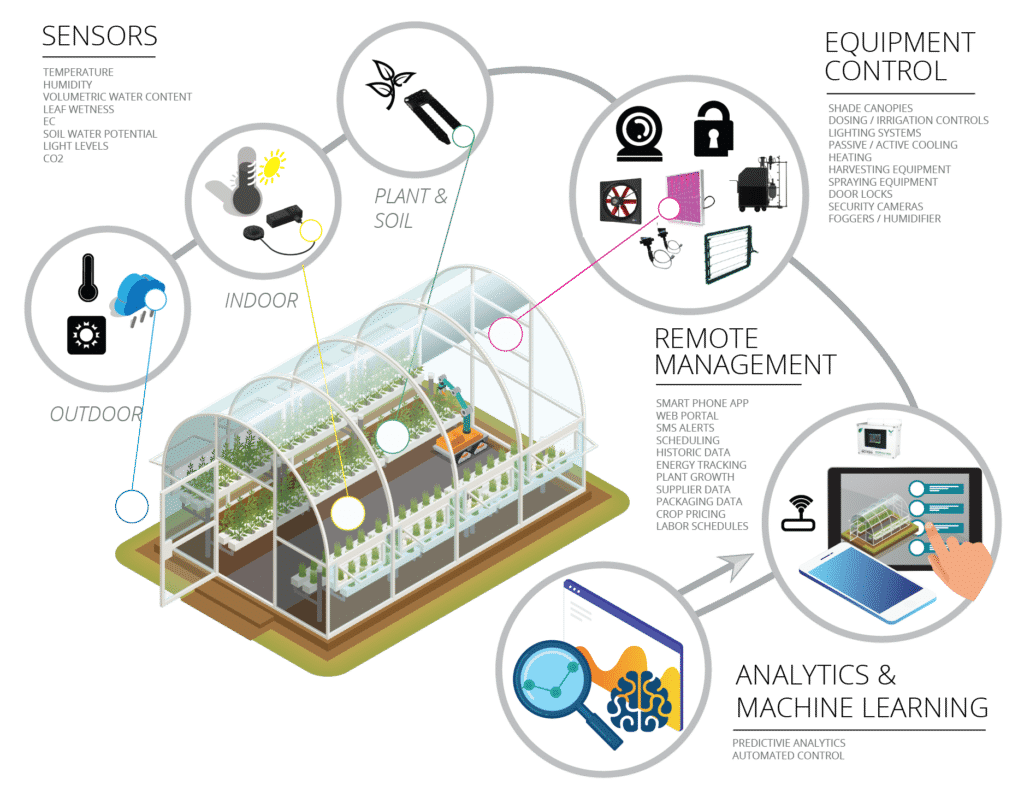 The way of operating and cost must have an efficient way. An irrigation system can be started with tensiometers along with threshold values. It is simple and flexible. Water use and leaching can be reduced with a tensiometer threshold controlled system. Input data is no further needed as this is a real-time and automated. The soil moisture is maintained properly as the investment and operating this is quite easier.
INSTALLATION
To prevent the air gap between soil and sensor all-dielectric moisture sensors should be properly installed. Altered form readings occur when the air gap is present. Installation of sensors requires specialized equipment, while another kind sensor requires placing it into a pilot hole. Tight seal between sensor and soil is obtained using slurry.
ZONE OF INFLUENCE
The zone of influence is very small comparably when the neutron moisture meter is bigger. The measurement is about 1 inch - TDR sensors and about 4 inches from the sensor - capacitance instruments
BENEFITS AND LIMITATION
The advantages of dielectric soil moisture sensors are they can be left in a place in log soil moisture content. They can be provided with repeatability of measurements and also they have great sensitivity when there is a small change in soil moisture content. Provided with a narrow vertical zone of influence as they have precise resolution with depth. The disadvantage includes the need for a calibration equation where there is difficulty in developing it. Also sensitivity to air gaps surrounding the sensor.