A Car that Fits in a Bag...!
A Japanese innovation named WalkCar is the World's Smallest Car that can fit in your bag when you don't need it.
Cocoa Motors is a Tokyo based company that developed the world's smallest car and named as WalkCar a laptop-sized car. This motorized car is about 13" size seems like a kid's scooter.
WalkCar designed to impress skateboarders in busy cities like Tokyo and New York, however a lot of in terms of handling and mobility than its similitude to a car. Like several electrical scooters, the WalkCar steers and accelerates in response to its rider's body position and shifting of weight. Lean forward to hurry up, lean-to abate, shift right or left to show, and step off to prevent. It would be cool that if the practicing curve on its technique is almost similar to the one for cyclists practice clip-in shoes for the very first time.
The WalkCar begins to move automatically when the rider gets on it and stops when stepped off. Can change the direction just by shift the body weight. Lithium batteries are powering WalkCar. Keeping up the body balance is the only important thing to ride the transporter. This tiny car is so flexible to turn for the obstacle, and the motor is strong enough to climb a small inclined hill.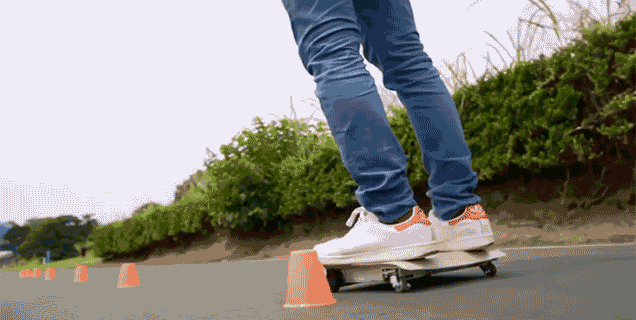 Despite the unnatural comparisons to an actual automobile, WalkCar's attractive commercial points are its portability and an easy operation. Kuniaki Sato who is a creator WalkCar, he aimed to design commuter transporting device that can be taken in a bag when it is not needed, and also to have the compact profile to achieve that, the WalkCar is built carbon body to reduces weight only over 6 lb (2.7kg). And can reach full speed around 10 mph (16kph), and charging for 60 mins will provide 60 mins drive time.