Convenience stores
Convenience store unlike corner shops can be seen wherever you go in Japan, so much that it has its own word in Japanese called "conbini". These compact stores have everything a person would need as essentials for 24 hours a day, 365 days in a year. Let us find out the different strategies and methods used by these stores to survive in a cut throat competitive market.
Most convenience stores are operated through franchises and have strict rules and regulations from the head offices. There are more than 50,000 combini stores in Japan generating annual sales exceeding that of department stores. Major chains are Lawson, mini stop, seven eleven and 27 others which are large corporations. It can be said that you can find a convenience store just about anywhere. If you stroll through a busy district you can find a combini every 150 meters. Why are conbini so popular in japan?
· Open 24 hrs a day 365 days a year
· Small retail space, large variety of products
· A single shop may have 3000 items or more
· Urgent necessities are literally 100 meters away
Food makes up 6-% of the merchandise. The selection can range from frozen foods to hot chicken fried sticks, ice-creams to munchies are all found. Bento boxes are especially popular as it is convenient for Japanese who are single or live alone, it.
Combini sell not only food, they have various services like ATM, international ATM, multipurpose copying machine for Xerox, printouts, kiosks to buy tickets for concerts, book trains are also available. You can also pay utility charges like water, electricity, gas. Now this is called convenience at its finest.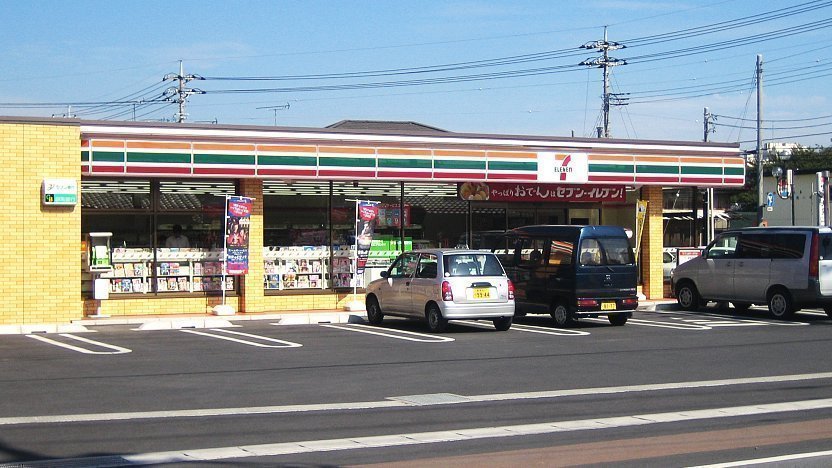 The concept of convenience stores was bought from the USA by a Japanese businessman about 40 years ago. He learnt that the US had 4000 shops where there was a wide range of products without discounts. He was convinced that the combini format would be a hit in Japan. He made a contract with the big chains, but they were strict with high licensing fees and opening 1200 stores within 8 years.. The first combini was opened in 1974, when Japan was going through major changes in consumer behavior and mass production was started. The problem that rose was, many items were in stock and some others were rapidly out of stock. At the time it was common practice to buy bulk from wholesalers, but a large variety + bulk equals a lack of storage space. The solution for this was opening more shops within the vicinity where the individual stores orders may be less but the sum of the whole would be bulk.
With so many stores, you might be curious as to what business strategy they use to keep their customers coming back and survive
1. Convenience store chains are the most competitive stores, they use customer database to keep track of what kind of product the customer buys, wants and this is used for further product development. Some stores research and pump out hundreds of new products in weeks based on the customer data. Point of sale mechanism is used to enter customer data like age, sex of person, purchases when checking out, this gives out product trends
2. Loyalty cards also play a major role. The card contains personal information about the user, for the customer, the more they buy, the more points they collect and this can be used as money later in the store, for the store the card helps in understanding the buying habits of the customers. For example: one store achieved in targeting more female customers by introducing low calorie bread, less sugar and diet related products after finding out that women tended to buy more things which were healthy. Digital data is an essential tool for these stores
3. Dominance strategy: you may see the same chain of stores right opposite each other, which makes it difficult for rival chains to enter the turf. Each store has its own specialization so you could be eating lunch from one store and dessert from the other.
4. To stand apart from others, chains develop their own brand of food ranging from regular Japanese cuisine to Italian and a large variety of desserts, yoghurt and snacks.
The original concept was from America but it was refined and made a success in japan. Though it is said that the market has reached saturation, there is continuous growth and development every day to survive.